For students who are doing finance-related courses, it is difficult to buy accounting software such as QuickBooks. They already have a lot of other expenses on their hand. Although the QuickBooks application is a great tool, however, buying it is financially difficult for students. So, the QuickBooks Student Discount is a great way to ease that burden off of them.
The QuickBooks Student Discount is an education program by Intuit to help the students as well as the educators. They are offered a discount when they buy the QuickBooks software. Further in this article, you will learn more about the program and much more.
QuickBooks Online Discount (Students & Teachers)
If you are a student and eligible in the USA, then you will have a year's access to QuickBooks Online Plus for free. Whereas, if you are an eligible teacher or educator in the USA, then you may download a free and non-expiring license of QuickBooks Online Accountant.
There are two ways to get this software. You can either purchase it from an offline platform or download it from an online platform. But, I recommend you download it from an online portal. In this way, you can save time. Also, online portals are very efficient as compared to offline stores.
How to Register for Free QuickBooks Online Version
Copy the link and paste it to your browser: https://www.intuit.com/partners/education-program/.
Here, you will get the option to chose the software you need to access under Features & Benefits category.
From the section of Register for free, select Students. If you are an educator, you can go with that.
Now, fill in the information in the form.
Then, click on Verify and Close.
After that, you just have to follow the on-screen process.
QuickBooks Desktop Discount (Students & Teachers)
For all students, teachers, and schools, if you are eligible for a discount, then Intuit provides a QuickBooks Desktop edition for you at no cost. To get the discount, students have to register for a 5 month trial of QuickBooks Accountant Desktop for Free through the education program. If you are an eligible student, then you can download a free 5-month trial version of QuickBooks Desktop from Intuit's official portal. Here fill the student discount registration form for the QuickBooks desktop.
Intuit also offers a free non-expiring license of QuickBooks Accountant Desktop for teachers and schools. This way, they can make a better environment for students. But the non-expiring licenses are only for school computer labs and for classroom desktop computers. It can not be installed or downloaded on a personal computer or device. QuickBooks Desktop's non-expiring license works only on students' computers.
Those students who are pursuing accredited academic institutions are eligible for a free trial of QuickBooks. These include a five-month trial of QuickBooks Desktop and a one-year trial of QuickBooks Online. Students of trade-School, College, or Universities can confirm if they are eligible and unlock their free license for QuickBooks Desktop just by completing the registration form. And for the student doing high School, you will have your teacher complete the educator registration form.
In this video, you can get the signup procedure of QuickBooks Student Discount on the Intuit Education Program page. Look, how to perform it;
Are you Eligible for QuickBooks Student Discount
It's important to know whether you qualify for QuickBooks Student Discount or not. Well, you are qualified for a student discount if you are a part of these given academic institutions:
A recognized primary or secondary school.
A Public or private university or college.
A school district or board of education.
Recognized public or private school that provides full-time instruction for students in grades K-12.
Public or private college or university including community college, junior college, or vocational school.
Other Useful Resources:

How Can You Use Audit Trail In QuickBooks?

Steps To Download And Install QuickBooks Payroll Tax Table
Where to Get QuickBooks Student Trial
There are many sources to download a free trial version of QuickBooks Accounting software. Following some of the trusted platforms that are helping students to download and purchase QuickBooks Version for free.
Intuit QuickBooks Official website: Intuit's official portal is the best platform to get QuickBooks for students for free. You can go to the official site of Intuit and download it.
Microsoft official portal: All students who are eligible for QuickBooks student discount can download the free trial version from Microsoft's official web portal with a verified certificate.
Apple Store: Apple is also helping the student to get their free trial version of QuickBooks. Students can download QuickBooks accounting software for Apple's official web portal and also purchase it through the offline store.
QuickBooks Student Discount for Different Versions
As Intuit provides student discounts for QuickBooks, there are several Intuit's products you may get a discount on through the Intuit education program. Such as turbo tax for students etc. For more information, you can visit the official site of Intuit and get the latest information for the Intuit student discount program.
If you are a student or an educator, you can easily get discounts on Intuit Education Program. You can register with a discount for a different version of QuickBooks. However, there are different discounts for educators and students as we have discussed above. So, here is the list of versions, you can get a student discount with:
QuickBooks Online Accounting.
QuickBooks Online Plus Payroll.
Premier accountant Software with payroll.
QuickBooks Desktop.
Benefits of QuickBooks Student Discount
Intuit provides free QuickBooks Online, and Desktop versions for students, and Educators. With this, it allows the students to use all of the features, and the function of QuickBooks to do their own finance work.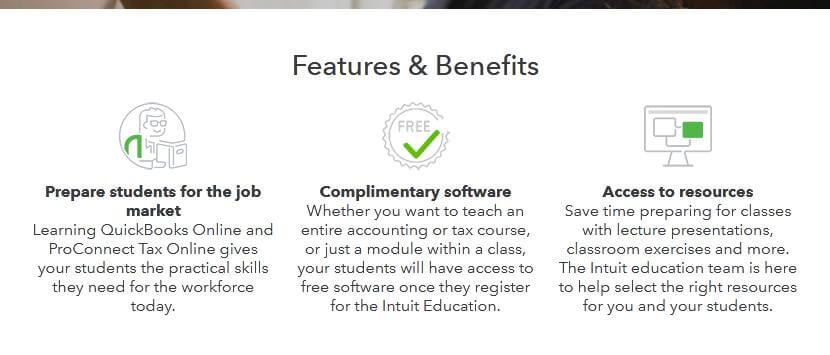 We hope the information given in the article was helpful. However, if you require more details, you can contact our customer support. Call us through our toll-free number. Our team of experts and ProAdvisor are always available to guide you through everything. Also, you can get in touch with us for any further queries related to QuickBooks.